Projector Lamp SP-LAMP-061
Origin: China / Japan
Lamp Type:: 220W
Part Number: SP-LAMP-061
Fit for Brand: INFOCUS
Payment Terms: T/T, Western Union, , PayPal
Delivery Detail: 1-3 days By DHL, FEDEX, EMS etc.
Get Best Price Now ↓

SP-LAMP-061 projector repalcement lamp/bulb for INFOCUS
Fit for projector model:

Infocus IN104,Infocus IN105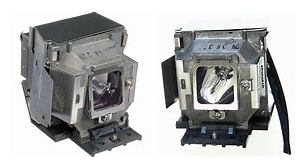 Lamp information
Getting to know the SP-LAMP-061 lamp hour
When the projector is in operation, the duration (in hours) of lamp usage is
automatically calculated by the built-in timer. The timer displays lamp hours used in
Normal mode, plus equivalent Economic mode hours. Equivalent Economic
mode hours are calculated as follows:
1 lamp hour (in Normal mode) = 1.33 lamp hours (in Economic mode)
Timing of replacing the lamp
When the Lamp indicator lights up red or a message appears suggesting it is time
to replace the lamp, please install a new lamp or consult your dealer. An old lamp
may cause a malfunction in the projector and in some instances the lamp may
explode.
CAUTION
The Lamp indicator light and Temperature warning light will light up if the lamp becomes too
hot. Turn the power off and let the projector cool for 45 minutes. If the SP-LAMP-061 Lamp or Temp indicator
still lights up after turning the power back on, please contact your dealer.
Replacing the lamp
electrical shock and fire.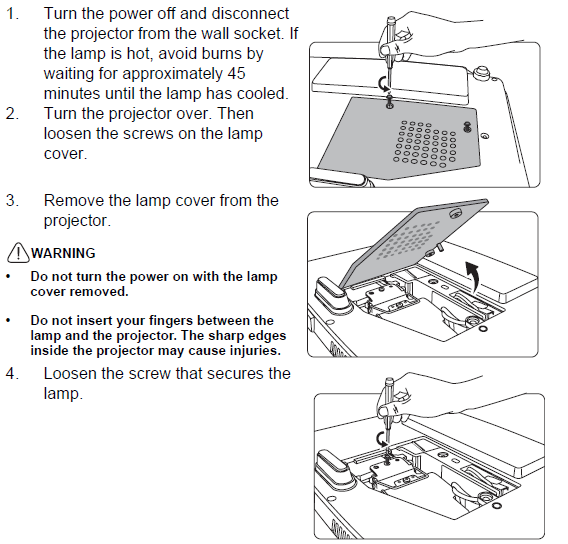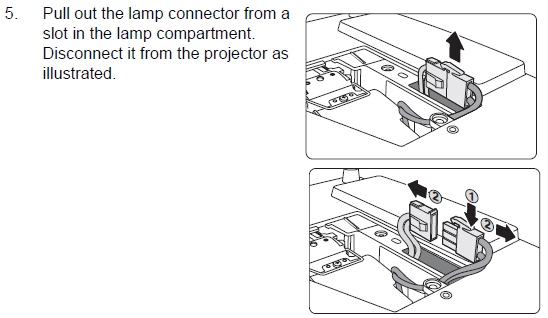 Warning
• To reduce the risk of electrical shock, always turn the projector off and disconnect the
power cord before changing the lamp.
• To reduce the risk of severe burns, allow the projector to cool for at least 45 minutes
before replacing the SP-LAMP-061 lamp.
• To reduce the risk of injuries to fingers and damage to internal components, use caution
when removing lamp glass that has shattered into sharp pieces. Before replacing the
lamp, clean the lamp compartment and dispose of cleaning materials. Be careful of sharp
edges in the lamp compartment. Wash hands after lamp replacement.
• Only InFocus certified lamps are tested with this projector. Use of other lamps may cause
If you have special requirements, please contact us for a quote.

SEE More Projector Lamp For HOT SALES
· SP-LAMP-057 projector replacement lamp/bulb for INFOCUS
· VT77LP replacement projector lamp / bulb for A+K
· VLT-XL5950LP replacement projector lamp / bulb for MITSUBISHI
· POA-LMP138/ 610-346-4633 replacement projector lamp / bulb for SANYO
· Hitachi DT01191 replacement projector lamp / bulb