Projector Lamp BL-FP200C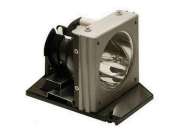 Origin: China / Japan
Lamp Type:: 200W P-VIP
Part Number: BL-FP200C
Fit for Brand: OPTOMA
Payment Terms: T/T, Western Union, , PayPal
Delivery Detail: 1-3 days By DHL, FEDEX, EMS etc.
Get Best Price Now ↓

·BL-FP200C replacement projector lamp / bulb for OPTOMA
· BL-FP200C lamp replacement and time
BL-FP200C lamp replacement and time
Replacing the BL-FP200C lamp
The projector automatically detects the lamp life. When
the lamp life is nearing the end of use, you will receive a
warning message.

When you see this message, please contact your local
reseller or service center to change the lamp as soon as
possible. Make sure the projector has been cooled down
for at least 30 minutes before changing the lamp.
Lamp Replacing Procedure:
1. Switch off the power to the projector by pressing the Power
button.
2. Allow the projector to cool down at least 30 minutes.
3. Disconnect the power cord.
4. Use a screwdriver to remove the 2 screws from the cover.
5. Push up and remove the cover.
6. Remove the 2 screws from the lamp module.
7. Pull out the BL-FP200C lamp module. 
To replace the lamp module, reverse the previous steps.
8. Turn on the projector and do "Lamp Reset" after the lamp
module is replaced
Warning: To reduce the risk of personal injury, do not drop the lamp
module or touch the BL-FP200C lamp bulb. The bulb may shatter and cause
injury if it is dropped
When the lamp reaches its end of life, it will burn out and may
make a loud popping sound. If this happens, the projector
will not turn on until the lamp module has been replaced. To
replace the lamp
If you have special requirements, please contact us for a quote.

SEE More Projector Lamp For HOT SALES
· AN-P25LP projector replacement lamp/bulb for SHARP
· DT00911/ 78-6969-9947-9 projector replacement lamp/bulb for 3M
· DT00871/ 78-6969-9930-5 replacement projector lamp / bulb for 3M
· ELPLP16/ V13H010L16 replacement projector lamp / bulb for EPSON
· 5J.J1R03.001 replacement projector lamp / bulb for BENQ