Projector Lamp AN-K15LP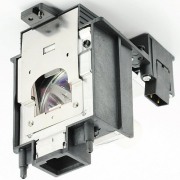 Origin: China / Japan
Lamp Type:: 250W SHP
Part Number: AN-K15LP
Fit for Brand: SHARP
Payment Terms: T/T, Western Union, , PayPal
Delivery Detail: 1-3 days By DHL, FEDEX, EMS etc.
Get Best Price Now ↓

·AN-K15LP replacement projector lamp / bulb for Sharp
· Resetting the AN-K15LP Lamp Timer
AN-K15LP lamp replacement
Replacing the AN-K15LP Lamp
Do not remove the lamp unit from the projector right after use. The lamp will be very hot and may cause burns
or injury.
•Wait at least one hour after the power cord is disconnected to allow the surface of the lamp unit to fully cool
before removing the lamp unit.
■ Carefully change the lamp by following the instructions described in this section. * If you wish, you
may have the lamp replaced at your nearest Sharp Authorized Projector Dealer or Service Center.
* If the new AN-K15LP lamp does not light after replacement, take your projector to the nearest Sharp Authorized Projector
Dealer or Service Center for repair
1. Press STANDBY/ONon the projector or STANDBYon the
remote control to put the projector into standby mode.
Disconnect the power cord.
2. •Unplug the power cord from the AC socket.
•Leave the lamp until it has fully cooled down (about 1 hour).
3. Remove the lamp unit cover.
•Close the lens shutter. Loosen the user
service screw (1) that secures the lamp
unit cover. Remove the lamp unit cover
Remove the lamp unit.
4. •Loosen the securing screws from the
lamp unit. Hold the lamp unit and pull it
in the direction of the arrow. At this time,
keep the lamp unit horizontal and do not
tilt it.
5. Insert the new lamp unit.
•Press the lamp unit firmly into the lamp
unit compartment. Fasten the securing
screws
6. Replace the lamp unit cover.
•Align the tab on the lamp unit cover
(1) and place it while pressing the cover
(2) to close it. Then tighten the user
service screw (3) to secure the lamp
unit cover.
If you have special requirements, please contact us for a quote.

SEE More Projector Lamp For HOT SALES
· POA-LMP65/ 610-309-2706 replacement projector lamp / bulb for Eiki
· SP.88N01GC01 projector replacement lamp/bulb for NOBO
· TLPLP20 projector replacement lamp/bulb for KINDERMAN
· SP.85F01G001/ SP.85E01G001 projector lamp/bulb for OPTOMA
· SP.83C01G001 projector lamp/bulb for OPTOMA
· AN-LX20LP/ AN-LX20LP/1 replacement projector lamp / bulb for Sharp